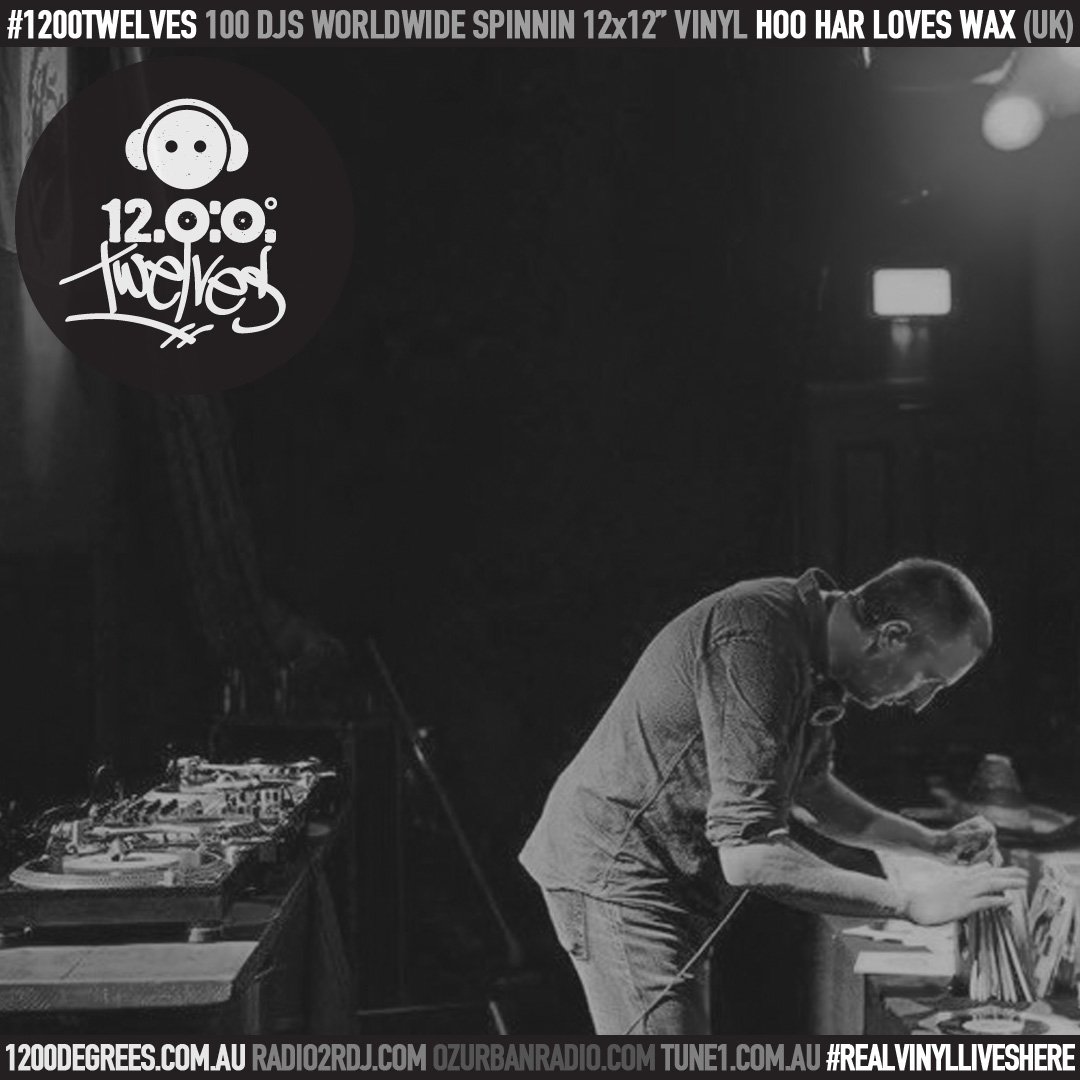 Here we are at EP74 of #1200degrees with mix #28 of our 1200 Twelves project featuring #HooHarLovesWax mixin 12 of his 12" vinyl records followed by a replay of 1200 12's mix #27 by #DJAdverse plus yours truly #DJD in the mix for the first hour.
"I have two DJ residencies in Newcastle, UK playing all vinyl selections of music and occasionally promoting people, I also do spot sessions for other places and play around the country regularly (when covid restrictions allow!) I'm a regular on the festival scene too, I've been spinning wax since 1991. I try not to forget that the tunes are the most important thing and like to keep things varied!" Hoo Har Loves Wax (UK)
This episode also features a replay of 1200 twelves mix #27 created by DJ Adverse is Co founder of The Groove Dealers, and a part of its Dj Collective Ft Cman, Makoto, Caratgold & Vj Spook. Is one half of Video Dj outfit 'CutKlips'. Adverse has played live on Radio for 2RDJ 88.1fm with DJ D on mixbosses, Bondi Beach Radio on the Zulu Nation Radio show with DJ MK-1 and Mirrah and 2SER 107.3fm with Hardcore Classic Radio's Randy Glazer and Tommy Rock. He played warm up sets at the 2014, 2015 and 2016 DMC NSW championship, The 2015 Wax Wars, Dj'd for Destructive Steps World Finals (One of Australia's biggest street dance event's) and sets at festivals including Street Fest with Food Trucks United, Sydney Festival and at the inaugural SoulFest as part of the 45's sessions with Funkdafied Events. He has supported the likes of International artists De La Soul, Slick Rick. Raekwon, DJ Total Eclipse (The X-Ecutioners), Zac Hendriks, Sarah Love, Eric Lau, John Morales, Oddisee, Slum Village, Conkarah and Aus Hip Hop rapper Briggs.
| | | | |
| --- | --- | --- | --- |
|     1 | Sunshine | Fat Joe DJ Khaled Amorphous | 2021 |
|      2 | Never Too Much (All My Love) | Luther Vandross | 1981 |
|      3 | Brick house | Commodoes | 1977 |
|      4 | Ill Nana | Foxy Brown Method Man | 1996 |
|      5 | Big Bad Mamma | Foxy Brown Dru Hill | 1997 |
|      6 | Bad Mama Jama | Carl Carlton | 1981 |
|      7 | Hollywood Swingin | Kool & The Gang | 1976 |
|      8 | Feels So Good | Mase | 1997 |
|      9 | Funk You Up | The Sequence | 1979 |
|   10 | Whatever | EnVogue ODB | 1997 |
|   11 | Aint A Damn Thang Change | WC and The Maad Circle | 1991 |
|   12 | Tell Me I'll Be Around | Shades | 1996 |
|   13 | Loungin (Who Do You Love) | LL Cool J | 1996 |
|   14 | Who Do You Love | Bernard Wright | 1985 |
|   15 | 1200 Twelves mix #28 | Hoo Har Loves Wax | 2021 |