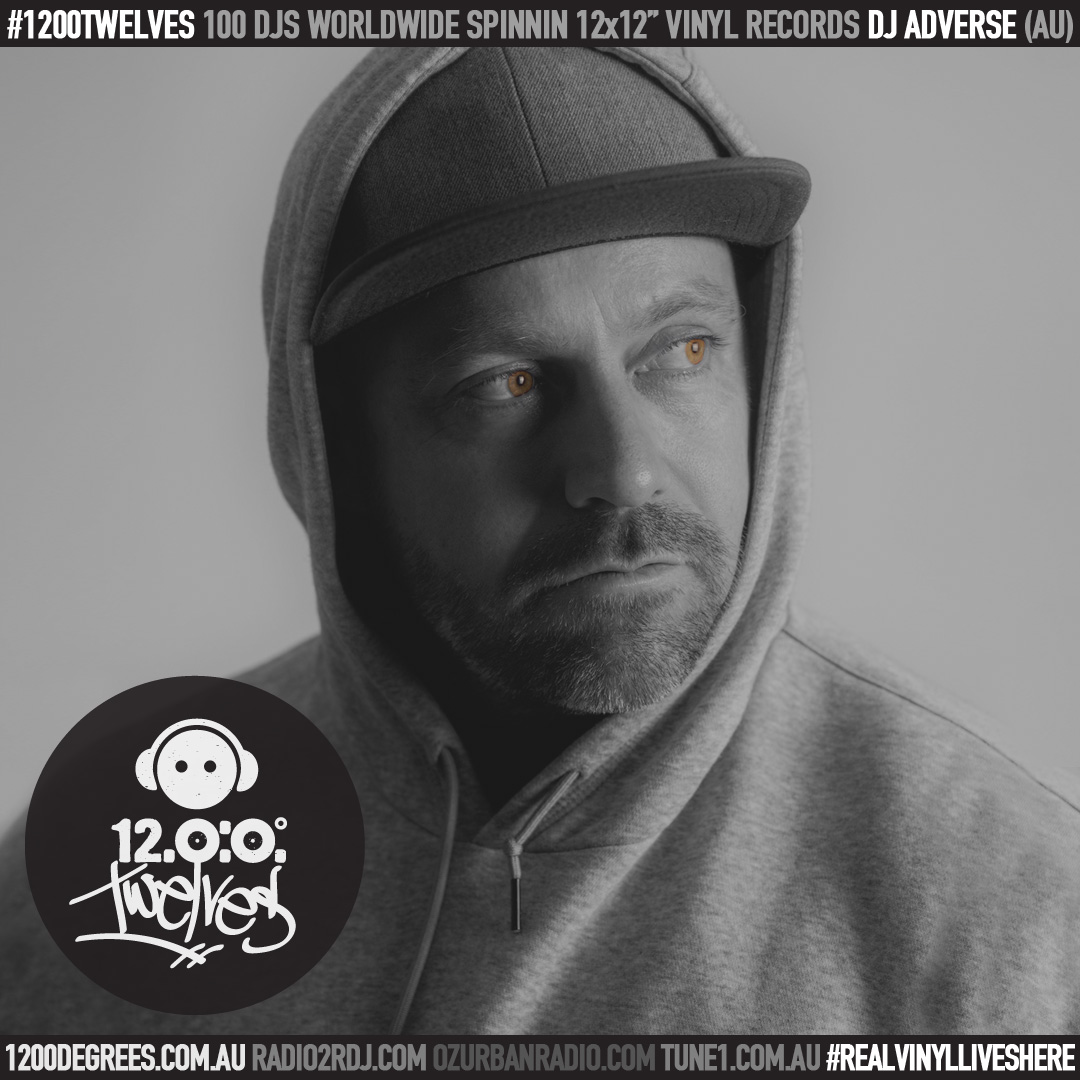 Hittin EP73 of #1200degrees #mixxbosses we are honoured to feature #DJAdverse mixin 12 of his 12" vinyl records for mix #27 of #1200Twelves followed by a replay of 1200 12's mix #2 by #MrLob plus yours truly #DJD in the mix for the first hour.
Our 1200 twelves guest on this episode DJ Adverse is Co founder of The Groove Dealers, and a part of its Dj Collective Ft Cman, Makoto, Caratgold & Vj Spook. Is one half of Video Dj outfit 'CutKlips'. Adverse has played live on Radio for 2RDJ 88.1fm with DJ D on mixbosses, Bondi Beach Radio on the Zulu Nation Radio show with DJ MK-1 and Mirrah and 2SER 107.3fm with Hardcore Classic Radio's Randy Glazer and Tommy Rock. He played warm up sets at the 2014, 2015 and 2016 DMC NSW championship, The 2015 Wax Wars, Dj'd for Destructive Steps World Finals (One of Australia's biggest street dance event's) and sets at festivals including Street Fest with Food Trucks United, Sydney Festival and at the inaugural SoulFest as part of the 45's sessions with Funkdafied Events. He has supported the likes of International artists De La Soul, Slick Rick. Raekwon, DJ Total Eclipse (The X-Ecutioners), Zac Hendriks, Sarah Love, Eric Lau, John Morales, Oddisee, Slum Village, Conkarah and Aus Hip Hop rapper Briggs.
This episode also featured a replay of mix #2 of 1200 twelves mixed by DJ Mr Lob. Founder of The Forty Five Kings, he's been active on the Melbourne Dj scene since 1999. Some highlights include being placed #5 in the world for the 'Most Listened To Funk-Soul-Jazz Shows' in 2017 on Mixcloud, #17 in Mixcloud's 'Best Of 2015 Eclectic' worldwide category. "My live Dj sets are generally an eclectic blend of funk, soul, jazz, hip hop, reggae, Afrobeat and Latin, while my mixes tend to be more genre specific. The one thing you can say about my style is that whatever I play it has to have a real funky, jazzy and soulful sensibility" Dj Mr Lob.
| | | | |
| --- | --- | --- | --- |
|      1 | Like Daddy Like Daughter | Kokane ft Aanisah Long | 2019 |
|      2 | Doggytails | Snoop Dogg ft Kokane | 2018 |
|      3 | Mr Ladidadi | Baker Boy | 2018 |
|      4 | Get Down On It | Kool And The Gang | 1981 |
|      5 | Get Down On It | Snoop Doggy Dogg ft Jermain Dupri | 1997 |
|      6 | High Come Down | Nate Dogg Chico And Coolwadda | 2004 |
|      7 | Lights Cmaera Action | Mr Cheeks Missy Elliot |   |
|      8 | Keep On Truckin Part 1 | Eddie Kendricks | 1973 |
|      9 | Keep On Truckin Part 2 | Eddie Kendricks | 1973 |
|   10 | Little Ole Country Boy | Parliament | 1970 |
|   11 | Potholes In My Lawn | De La Soul | 1989 |
|   12 | I Left My Wallet In ElSegundo | A Tribe Called Quest | 1989 |
|   13 | Funky | The Cambers Brothers | 1971 |
|   14 | Ecstasy | Ohio Players | 1973 |
|   15 | Bangin West Coast | Soopafly | 2007 |
|   16 | 1200 Twelves Mix #27 | DJ Adverse | 2021 |
|   17 | 1200 Twelves Mix #2 | DJ Mr Lob | 2020 |